Happy New Year Readers.. Wishing you a great one ahead and hope you get to do what you love to do and excel in the same.
This new year, I am going to MakerFest 2014 organised by Motwani Jadeja Family Foundation (MJFF). This is probably the first of its kind event in India where several makers of India come up to a single platform to collaborate,teach,learn and evolve.
This edition is being organised at NID,Ahemdabad from 4-5th January and has a lot of awesome makers coming( I know some only sorry! ) including Anool Mahidharia, who was behind the OSHW Badge that had a pretty cool paper display and lot of cool other cool makers.
You can see other makers coming to the event here .
There will be lots of fun workshops taking place , and i am also taking one.. Its called Illuma Eye Loupe. What it involes is having a single battery driven LED illuminated eye loupe that helps in taking a closer peek at those SMD connections we make. Normal Eye Loupe makes it darker as we close up and not everyone enjoys the luxury of having a personal USB microscope/or even a normal one. So, we used to have this problem while working in the lab(TI-CEPD) and hence, the solution was found by making an illuminated one. There were several design iterations (4, I guess ) for the same. First we tried with a normal perfboard and used a 9V battery to do the job. But the battery was very clumsy to handle as one hand would always hold the battery.. Then we tried with other batteries but they wont last long. 2xAA would again make the form very big!!
Not done.. huh?
So we went for a Single integrated PCB that would have an inexpensive boost converter that would boost the 1.5V from 1xAAA battery into 3-3.7V for the white LEDs. Now, when using the thru hole LEDs the form got a bit thick and hence in the final version we went for the SMD LEDs.
I have a couple of images on flickr of the photographs you can click using a cell phone camera and this eye loupe(earlier version).
So, Once we were final with the design, We sent the designs to a local fab house to get the PCBs made. We got them just in time..Here is a pic of them..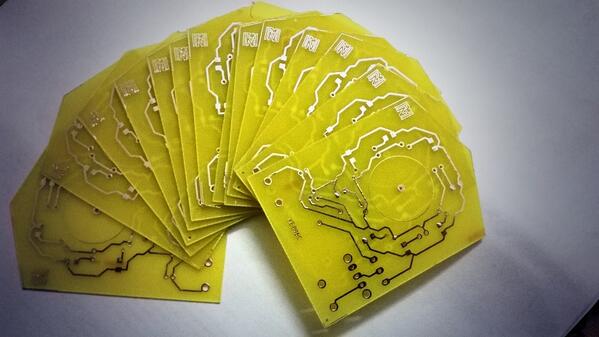 Unfortunately, The Fab House didnt drill/mill the centre eye loupe hole. This is what i am doing now.. using an old-blunt-misaligned spade drill bit a file and a dremel.
Update:
Just managed to drill those holes. The steps were
Go to market and search new spade bit.
Step 1 , Didnt work.Hammer the bit to make it somewhat aligned after securing it in the vice.
Step 2, didnt make things that good..
Drilled in ascending order 2.8–>4–>4.5mm
Then used the misaligned bit to drill it thru
 Used a paper cutter to cut excess debris of the Glass epoxy mesh
Use a dremel with a sanding bit and make them smooth to fit the loupe.
The result is as follows:
There are a couple of workshops folks at TI-CEPD are orgainising..
We have a RGB doodler by Nidhi ,A batteryless TV/DVD/STB Remote by Ishan and Netal , A Batteryless Dice by Ritika n Priyanshi and A very Easy to make homo-polar motor by Saral.
I would like to thank Texas Instruments India for funding our travel, Nidhi for setting everything up, Prof. Dhananjay V.Gadre for helping,guiding and motivating us at every moment and Priyanshi for arranging accommodation..
I will post (well almost live) images on instagram ,twitter and facebook. Be sure to follow…
Looking forward to it.
આવ્જો (āvjo)
Rohit